Accumulated corpses, blood, stench, garbage or animals… Have you ever wondered who will return these unpleasant scenarios to normal? Forensic cleaning experts are in charge of leaving everything as if nothing had happened there.

What are
traumatic cleansings
?
Traumatic cleaning is a special cleaning modality that aims to sanitize and disinfect a particularly rough scene due to its extreme violence or filth.
Every day we see these unpleasant assumptions picked up in the news: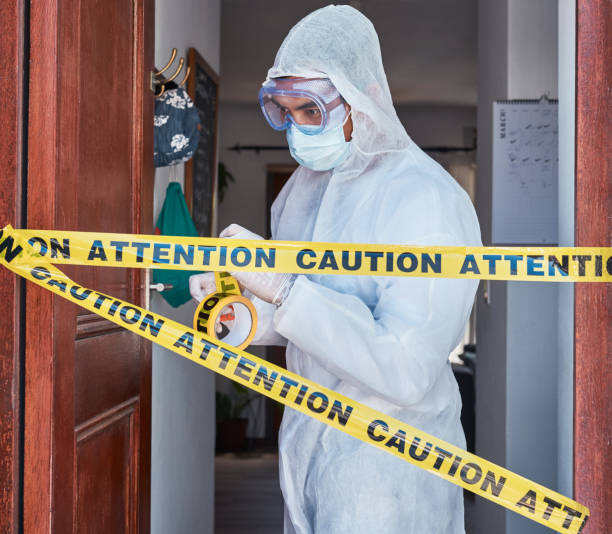 Traumatic cleanings include forensic scenarios (homicides, suicides, and unattended deaths) and those resulting from certain mental illnesses (Diogenes and Noah syndrome). All of them are characterized by their crudeness and nauseating circumstances (stench, insects, etc.).
Such cases require the intervention of professionals specialized in traumatic or special cleaning since such cleaning and disinfection tasks generate a real risk to the physical and mental health of those who carry them out.
What causes comprise
traumatic cleanings
?
Forensic Traumatic
Cleanups
This type of traumatic cleaning entails the disinfection and sanitation of those scenarios where a corpse appears in any of the following cases:
Result of a crime (homicide or murder) or a suicide: once we have carried out the police investigations, the blood and body remain must be eliminated.

Unattended death (violent or natural): no one has taken care of the corpse for a period greater than 48 hours, which implies the appearance of fluids and insects, which turn the body into a source of infection.
Traumatic cleansing
derived from mental pathologies
This type of traumatic cleaning involves restoring the hygiene of a space inhabited by people affected by certain psychiatric disorders that lead them to accumulate a large amount of waste.
Diogenes Syndrome: it is characterized by hoarding inanimate objects, often useless, without observing minimum hygienic requirements.

Noah's Syndrome: comprises accumulating many animals, without providing them with essential care (food, cleaning, veterinary…).
The consequences of both diseases are very similar: bad smells, pests (such as rats or cockroaches ), and unsanitary conditions. Only professional cleaning and disinfection can return the affected space to normal.
Are you looking for experts in
traumatic cleaning in Melbourne
?
A person without adequate preparation should not face a traumatic cleaning, since it is dangerous for their mental health (they can develop post-traumatic stress, depression, neurosis, etc.) and physical health (infections derived from contact with pests and bacteria).
When we talk about traumatic cleaning scenarios, conventional cleaning products do not carry out the deep cleaning and disinfection that such places require.
Carrying out the professional cleaning and disinfection of a traumatic scenario is essential for it to recover its real estate value, being able to be used again normally, with nothing there being able to remind us of what happened.
Only professionals specialized in traumatic cleaning can guarantee the absolute cleaning and disinfection that such situations require, providing the decontamination, deodorization, and sanitization of the affected places, returning them to complete normality.
If you have to face cases that require traumatic cleaning in Melbourne, you need: we will take care of everything, so that you do not have to worry about anything, leaving the place totally habitable and clean.
Has highly specialized personnel and products for many special cleaning. We work with absolute efficiency, speed, and discretion. So, if you need traumatic cleaning in Melbourne, call us.